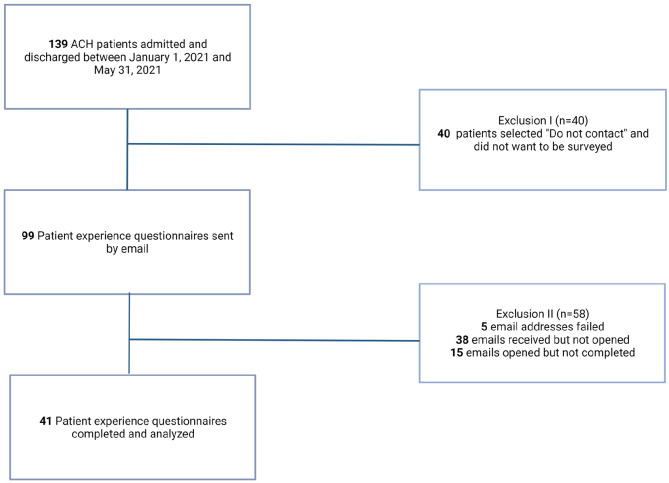 Overall Patient Experience With a Virtual Hybrid Hospital at Home Program
Traditional hospital at home models often have high patient experience scores. The purpose of this study is to look at the patient experience of a new virtual hybrid model of hospital at home called Advanced Care at Home. Patients in Mayo Clinic's Advanced Care at Home program received a survey via email from 1 January–31 May 2021. Each survey consisted of 20 questions divided into 18 multiple-choice and two open-ended questions.
Ninety-nine surveys were sent and 41 partially or completely finished surveys were returned for a response rate of 41.4%. Patients responded positively, denoted by answering "strongly agree or somewhat agree," with regard to the ability to reach the team right away 100% of the time, being kept informed 92% of the time, the command center responding promptly to their needs 95% of the time, the team providing comfort and support 98% of the time, feeling comfortable with interacting with their provider by phone or tablet 95% of the time, the ease of use from the equipment 97% of the time, the virtual and in-person staff working well together 98% of the time, the staff treating patients with courtesy and respect 100% of the time, and the ease of understanding the discharge process and feeling ready to leave the program 100% of the time. All providers received positive responses on listening ⩾88% of the time. Patients gave a top rating in likelihood to recommend the program 100% of the time.
Overall, the Advanced Care at Home model of hospital at home was highly recommended by patients. Patients scored the program high on responsiveness, staff engagement and communication, ease of equipment use, and readiness for discharge, strengthening the overall confidence in this novel program.
---
Next Article
Following the success of the Personify Care platform in minimising readmissions after general surgeries, St John of God Murdoch Hospital is rolling it out to the specialist surgery wards. St John of …
Did you find this useful?