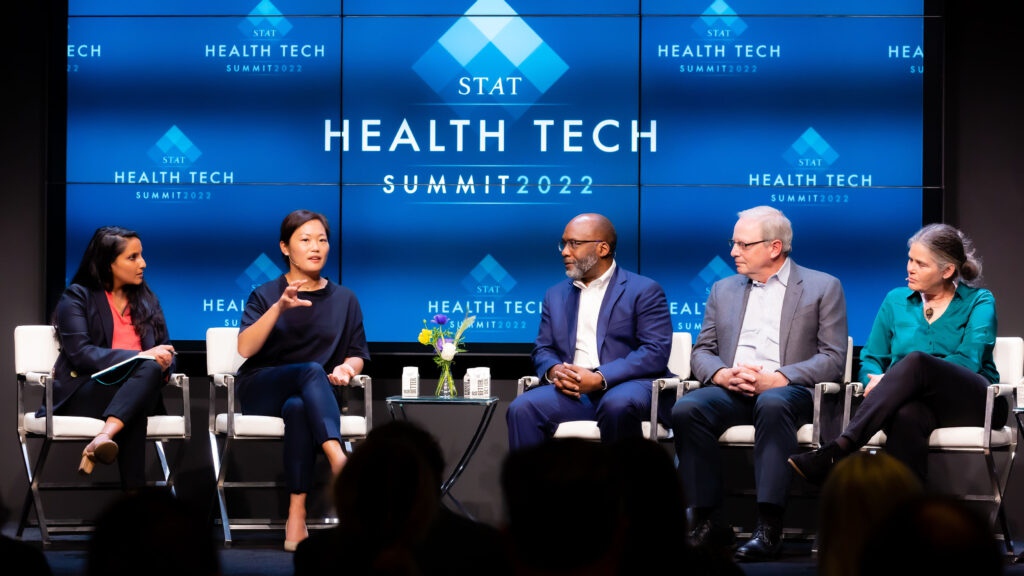 No Low-Hanging Fruit: Experts Pitch their Four Big Ideas for Changing Health Care
Four health care leaders took the stage at the STAT Health Tech Summit in San Francisco Tuesday to take up that assignment. What they proposed ranged from finding new ways to power health devices to devising strategies to address the legacy of racism in health care. Many of their suggestions involved large-scale institutional changes. One of the panelists, Robert Wachter, chair of the medicine department at the University of California, San Francisco, acknowledged none of them would be easy to execute.
Health care leaders are increasingly using tablets, wearable monitors, even iPhones as tools in patient care and monitoring. But what happens when these devices need to be charged? That's one common thread in all of the pitches that Andreessen Horowitz General Partner Julie Yoo hears. "Being on the receiving end of so many [remote patient monitoring] and wearable pitches, you tend to see the fact that one of the biggest contributors to the lack of compliance on the side of the patient with these longitudinal measurement programs is the need to recharge their device every now and then," she said.
It's not an easy fix. Lithium, the metal that is used in many types of batteries, is in short supply because it's being used more than ever to power electric cars, cellphones, and other technology. The process of extracting it from underground hasn't improved much over the years, either. Researchers are looking for ways to collect and translate body heat into energy. "Imagine that, one day you could basically plug in your wearables to your body and actually have it sort of self-charge, just by virtue of your day-to-day movements," Yoo said.
Continue reading at statnews.com
---
Next Article
Only in 2021 and only in our country, a total of 276,000 cases of cancer were diagnosed, according to the Spanish Society of Medical Oncology (SEOM), and it is estimated that 113,000 patients died due …
Did you find this useful?