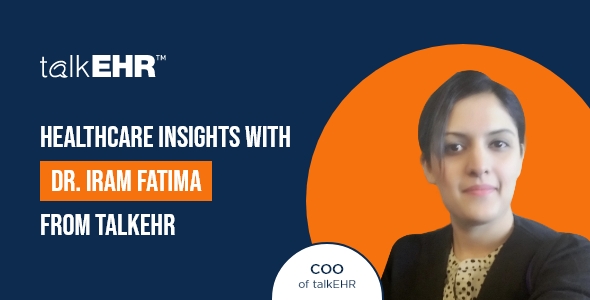 talkEHR COO, Dr. Iram Fatima, Talks About EHR Innovation, Telehealth, & Importance of Online Reviews for Innovators
Q1. Among the many lessons highlighted during the COVID-19 pandemic is the fact that Practice and Operations Management require insight, visibility, and predictability to truly optimize the way we perform in a complex and ever-evolving landscape. What does one truly mean when it comes to Practice and Operations Management in the healthcare industry?
Healthcare operations and management have many domains. From quality to budget control, team to workflow management, and achieving the goal to serve and business simultaneously. Covid-19 as a pandemic hit almost all industries, including healthcare. With record-breaking numbers of patients infected and existing patients with co-morbid, there was a desperate need for transformation in clinical decision-making, managing the patient workflow, and analyzing the balance between resources and services required.
Unlike many other industries, healthcare is not a luxury, so it is essential to maintain system integrity yet make it fully operationalized in all situations, including emergencies.Covid-19 does not come with challenges; it also helped us deep dive into the healthcare operations to optimize this system's clinical and administrative needs. It evolves the less explored and less popular digital health to look for other efficiency measures to provide better healthcare services.
Q2. talkEHR deals in two major domains of the healthcare industry: Medical Billing and EHR. How does it keep itself at the forefront in comparison to its competitors? To be more specific, what is the key strategy for the company when it comes to the innovation lifecycle of its services?
With deep insight into healthcare technology and billing and experience of 20+ years, CareCloud always focuses on bringing innovation to the medical field. TalkEHR, like 3rd generation of our EHRs, is an amalgam of innovative technology and healthcare regulations. CareCloud is one shop stop for all the critical workflows in a clinical setup. We believe in technology as a tool to overcome the global challenges of resource shortage and increase billing workload.
As a pioneer in blockchain technology and inbuilt voice assistant, we explored the possibility of telehealth in everyday medicine. Even before the pandemic hit, it was an instant champion during the pandemic. Using powerful AI tools and algorithms, the self-guided modules minimized physician burnout in this critical situation. The robotic process automation enabled the huge industry key players to perform simple day-to-day tasks in no time and without any physical resources.
We keep in mind the user base to help users and not complicate things with all these technological advances. It is either introducing smart applications for the providers or the patients or providing resources to manage chronic morbidities. This approach put us way ahead of our competitors struggling with digital transformations and data security challenges associated with this.
Q3. How do you ensure that your innovation lifecycle fits into the innovation lifecycle and expectations of your clients/hospitals?
There are some key indicators to ensure this. The critical indicator is a sustainable business in terms of revenue. We believe that we help hospitals and practices grow more with these changes. Here comes into play the business intelligence systems. They can keep a close look into their numbers and even improve them despite the critical emergency with intelligent tools. If the business is expanding, then the client happily adopts these innovations.
Another vital aspect is client communication, whether it is CareCloud communications to our clients or ensuring the contact with their patients. Again, digital transformations help us keep a close eye on client needs and expectations in the day-to-day changing dynamics of the healthcare industry. Enabling patient self-check-in to patient visit surveys, we open the channels to help understand the requirements of daily operations of our first-line workers.
Q4. Reports show that EHRs often have the opposite effect and pose enormous usability challenges, often disrupting patient-clinician relationships and leading to interoperability complexity, template misalignment with practice operations, etc., just to name a few. What do you think is the root cause of these upcoming challenges with EHR Implementation in a hospital system? Do you think innovators and hospitals can address these challenges through a disciplined process of pursuing innovation?
As a physician, I agree with the pressure our physicians have with all these technical solutions. I am very optimistic that what we are experiencing in this digital era will resolve a number of these concerns and remove the burden. EHR is not only a tool to give input, and we see EHR as an active part of the practice. It is not only a tool to use to document patient data; with advanced technology, it is an assistant who works for all time-consuming tasks. I can give you several examples in this regard. We use OCR technology to capture and extract information from patients' charts. From a tedious process of adding the data manually into a form to scanning the card for their record, all can do by just taking a picture. With smartphone devices and HIPPA-compliant services, adding or modifying your demographic information is a few seconds task. Services like OCR and digital data transformation are robust, efficient, and clean data management.
Another critical aspect of innovation is interoperability. As mentioned earlier, talkEHR is not a one-way software to document information. It helps navigate the day-to-day tasks of the office. Connecting to patient's diagnostic laboratories to electronic prescriptions database and taking prior authorizations on any medicine is a matter of a click, and everything is accessible in one area where it is needed. We also ensure that there are no additional steps in providing patient information on their health app while ensuring the providers have the knowledge and hold on to their practice data. Patients can review their own multiple care team members and family health records under one single login or even at the apple health app for participating providers.
Q5. Do you think hospitals and innovators can build a robust system if we have not settled on a disciplined innovation management process that is based on evidence instead of opinions and always considers patients first?
There is no absolute right or wrong in a system with multiple stakeholders and various workflows. In my opinion, it is a continuous evolutionary process. At one time, refilling a medicine is a multistep process to keep in mind patient safety. Now, it is a matter of a few clicks to ensure the patient receives the medication in real-time. Information like obsolete brands is handy, and even systems can help providers prescribe cost-effective medicine covered by the individual patient plan. The patient is the focus, but the quality and efficiency is the goal. With advancement and dependency on innovative technology use in the clinical EHRs like talkEHR, we deficiently come up with a much-needed speed and more minor gaps in the workflows. In CareCloud, we continuously change the system based on evidence supported by physician opinion to make it a successful solution for all. We have seen many changes in the medical community. I think they are more adaptive to these changes and looking forward to the proven benefit of this automation.
Q6. Generally in the months and years following an EHR implementation, providers realize that the system no longer meets their needs as the healthcare spectrum evolves, imposing changes such as federal regulations, meaningful use, mergers, and acquisitions, improved technologies and expectations, shift to value-based care, that require modifications to the EHR platform. What is talkEHR's strategy to stay toe-to-toe with the industry demands and how does talkEHR evolve according to patient needs?
Keeping up with recent technology and federal regulations is our top priority. Our dedicated certification wing helps us in formulating a product road map. We take these regulations as a critical driver for staying on track with our plans and innovation strategy in day-to-day operations. As I mentioned earlier, the technology transformation is novel for the healthcare industry, but COVID-19 helps us shift our focus from day-to-day management to making necessary changes in our overall health system. In talkEHR, we have the successful journey of providers critical of telehealth visits in diagnosis and prognosis to the same medical provider's incorporated talkEHR-integrated telehealth in standard scheduler for better monitoring efficient patient care.
TalkEHR fully supports meaningful use, and our intuitive workflows and built-in dashboards ensure that all the modules incorporated in the system are self-guiding and help providers score maximum points for all the services they have provided.
We also keep in mind the patient ease of use and needs in this tricky time and fully support the narrative as per federal law that patients should have complete control over their medical data. Patient applications like talkPHR help our patients on top of their scheduling and medical data management and are a means to stay up-to-date with their billing and payments. They can send secure messages to the providers and request refills from one application. Most of these services are home-built, so we have complete liberty of making changes at no additional time and cost to our clients. In short, talkEHR is fully capable, and in CareCloud, we ensure providers' compliance with multiple regulations but with improvements in their business.
Q7. If one thing in healthcare is an unwavering constant, it is that patient health is, and always will be, the top priority for any hospital. It's the truest indicator of success and for good reasons. But to ensure that goal is consistently met, healthcare organizations of all sizes need to be active in how they manage and optimize their revenue cycles. ROI is important. What is your insight on how can an organization better position its revenue capture and also, how can they build a solid financial foundation for continued profitability long-term?
In a developed society, healthcare is a commodity, and everyone has a right to essential medical services in their budget. Service providers manage a business and ensure service availability at an affordable level, adding tremendous pressure. The answer to all these questions is automation and leaning towards robust technology. With limited resources and several hurdles in managing the revenue cycle, process automation is the readily available solution.
talkEHR built-in transition-in solutions like coding and billing robots and mobile check-in assistants help provide efficient and cost-effective medical services. It is easy to ensure quality control and make changes according to the care facility's needs with digital footprints. In talkEHR, the all-in-one built-in services help our clients enjoy these innovative benefits at no extravagant cost to them or their patients.
Q8. According to you, which products and services are making money today in the healthcare sector? Which are some of the levers hospitals can pull to increase profitability by utilizing innovative processes and systems?
I think software as a service is the best tool monetized in healthcare. For example, Robotics process automation to provide full-time FTEs is one of the best and most cost-effective solutions for all healthcare industries. It works without delays and with perfect accuracy in no time.
CareCloud Precision BI is a fantastic analytical tool to enable hospitals to review and take critical actions to ensure income and expenditure balance. It highlights the trends in your practice with KPIs set for clinical and financial reporting. As with other services, it is not just a tool but also an essential guide to make help and support your decisions.
Other solutions like mobile phone applications are very profitable as it is available 24/7, and it is so much easier to work with products like talkLite and talkPHR, which helps you stay at the top of your medical record anywhere at any time.
Q9. In the end, with an increasing prevalence of technology around the globe, the status quo is no longer an option. The health care industry is rapidly evolving its approach to keep up with the myriad challenges it is facing. Regulatory, legal, technology, and compliance functions are being asked to do more with less while grappling with new and emerging challenges. What are the health care regulatory and technological areas that are likely to change and have implications for stakeholders in this industry?
With time, the regulatory authorities are introducing more rigid laws, and we have to keep up with them along with technology transformation. TalkEHR is always ahead of innovations. We strive to stay in sync with the changing federal regulations and compliance and security needs. We have powerful tools to ensure data security and a dedicated certifications team that monitors all regulatory changes and deadlines.
All these teams help us keep the product as per industrial requirements, and then our business analyst team works effortlessly to implement changes seamlessly without disrupting the end-user workflow. Change is the seed for development and progress; it stimulates us and keeps us on our toes to have a clear insight while following our plans and innovation in operations. A minor regulatory change as multifactor authentication required multi-team planning and detailed workflow advancement to implement without any daily workflow impact on our end user.
Q10. What would you like your offering profiles to have to help move people through the middle of your sales funnel?
Our offering is not limited to providing an EHR system for patient care. Instead, we facilitate medical setups of all sizes and physicians with individual and multiple specialties with complete back-office service. Everything is taken care of, from patient registration to payment posting or appeals. We as a team strive to take off the burden of collections from healthcare providers to enable them to focus more on patient care with the help of our fully integrated and automated Revenue Cycle Management (RCM).
We have taken a professionally tailored, consultative, and flexible approach while designing this service. Our software and the back-office team are trained to improve your profitability, alleviate administrative burdens, and meet the needs of healthcare providers head-on. Since we did not want to compromise on the quality of our services, we have kept Carecloud to serve large clinical settings with multiple specialty structures. Contrarily, talkEHR is introduced with the sole vision of assisting small to medium practices.
Q11. What kinds of social proof and reviews do you like as evidence for you that would help people through the middle of the funnel as an innovator?
Social proof serves as the brain for SaaS and PaaS businesses like ours. It helps consumers in their decision-making and helps us as a vendor to streamline our processes and solutions to accommodate the changing needs of the healthcare industry. We value all kinds of reviews made by our consumers, positive, negative, or suggestions. They help us see the good, the bad, and the gaps that need to be addressed to continuously grow and serve the healthcare providers in the best way possible. We have an online chat support system, contact us form, and profiles on third-party platforms. Anyone can explore the unbiased reviews available on these websites and make their decision to try out our services.
Q12. How do you push your press releases or other messaging through public systems to get a competitive advantage in this digital world?
We have a full-fledged press system in place, https://ir.carecloud.com/, to keep our stakeholders up-to-date on all company updates, including filings and press releases containing primary stock information and the company's standing. Customers can even subscribe to our mailing list to get all the latest updates straight to their inboxes. We are a customer-centric company and continue to create value for our product users.
Q13. How much have online ratings helped you in communicating your innovation better to customers?
In today's world, people do not want to try out a new toothpaste without doing their research online. We deal in the healthcare industry with sensitive information and patients' life at stack. Hence, healthcare facilities and providers found to do their research before integrating our EHR into their practices. They explore and ask the question, is this EHR certified? Will the transition be easy? What kind of support do I receive? Ratings and reviews help our targeted audience to get answers to all their queries.
Moreover, these ratings and reviews help us understand how well our product performs. Are there any glitches? How can we optimize the product to provide seamless service? Based on the data analysis, we take the necessary course of action to acknowledge maintenance and improvement requirements. Furthermore, we have a community, community.carecloud.com. We conduct webinars and surveys to stay connected with our customers through it.
Continue reading at medigy.com
---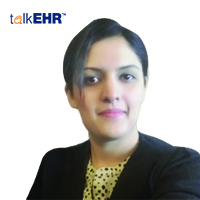 Dr. Iram Fatima (M.B.B.S)
Dr. Iram Fatima completed her MBBS (Bachelor of Medicine and Bachelor of Surgery) from Rawalpindi Medical University in 2011. She started practicing in her hometown and practiced as an Internist. She has hands-on experience in medicine, surgery, and OBGYN-related disease management. While practicing, Dr. Fatima works as an administrator and managing director of a charity hospital (A&M Memorial hospital) in a remote area of Kashmir. The hospital was one of its kind in remote locations and ran several clinical and educational operations using technology like telehealth. Her passion for continuously growing and serving a more significant purpose led her to join CareCloud as the project manager to Vice President of IT to oversee the EHR development. Later, her hard work and dedication led her to become the COO (Chief Operating Officer- EHR and Telehealth division) to control all the operations related to Telehealth and EHR systems. While managing massive operations and other activities in the states, she completed certification in Leadership Principles from Harvard Business School. She is a resilient, empathetic, and confident leader who knows her craft well and participates in shaping the way physicians handle their healthcare duties.
---
Next Article
Technologists often emphasize the significance of facts and evidences, but nowhere is this concept more vital than in healthcare technology, as the COVID-19 outbreak has proven. Data and …
Did you find this useful?