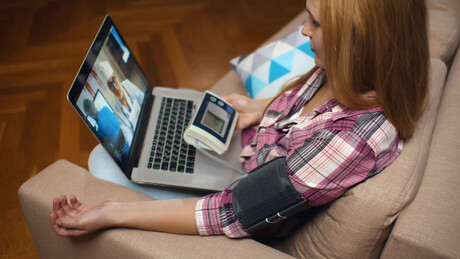 Bringing Clinical Trials to the Home: a Game Changer for the Sector
COVID-19 has highlighted the vital importance of clinical trials for drug and vaccine development, but it has also forced Australia's pharmaceutical and healthcare companies to completely redesign how these trials are run. In an era of lockdowns and restricted movement where it may not be desirable for many participants to get to physical sites, the clinical trial industry has had to follow in the footsteps of other healthcare services, in moving from clinics to the couch so that important research can continue remotely.
This promises many benefits, not least the possibility of shortening timelines for important drug and vaccine development. However, issues of interoperability and data privacy will need to be urgently addressed for it to achieve its full potential in Australia. In fact, interoperability and quality assured technology has been flagged as an area requiring attention for effective and sustainable adoption of virtual health by The Australian Healthcare & Hospitals Association1. From online consultations with doctors to remote monitoring of patients' vital signs, COVID-19's acceleration of telehealth in Australia has already been well documented. Deloitte predicts Australia will exceed the global average for telehealth adoption, with more than 10%2 of Australians regularly using telehealth services in 2021.
Moving clinical trials into a home setting is the next frontier, following on from the shift of other healthcare services out of hospital and clinical settings since the start of the pandemic. The development of e-consent systems and patient portals whereby patients can access all information relating to the trial in one place and consent via an e-signature also makes the enrolment process much easier, without patients even having to leave the comfort of their sofas. For clinical trials, the additional opportunities centre around using apps, sensors and wearables in the home to track important health indicators like respiratory rate, sleeping patterns, blood pressure and heart rate that were previously measured at specific points in time during onsite visits and check-ins. For the first time, this opens the possibility of continuous patient monitoring through passive devices working in the background to collect data 24/7, rather than just gathering data at specific points in the year when patients have physical appointments.
Continue reading at labonline.com.au
---
Next Article
Most respondents think that value-based care will have financial and clinical impacts on home healthcare. On a scale of zero to 10, with 10 as the highest, providers said that the financial impact on …
Did you find this useful?