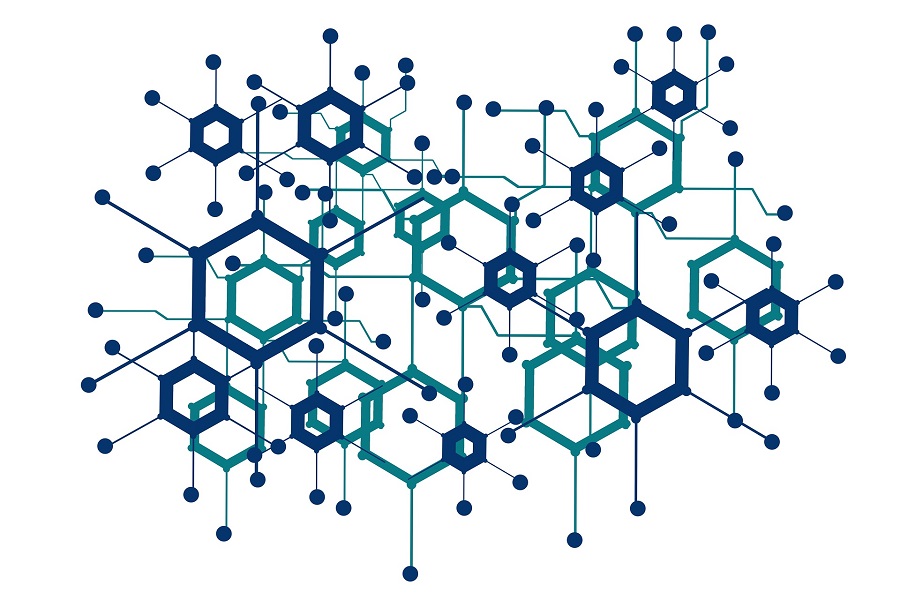 Navigating the Complexities of Healthcare Innovation Adoption - A Practical Guide for HDOs
The most successful healthcare organizations across the world are utilizing a research-backed approach in the assessment and integration of technological innovations. Neglecting to thoroughly examine new technologies can result in the misallocation of resources, suboptimal patient outcomes, and a decline in institutional credibility. Healthcare organizations can augment their investment yield and minimize potential adverse effects through the formation of strategic partnerships with industry experts. This provides a wealth of information gained from the analysis of real-world data and the collective expertise of these partners in the form of "crowd opinions".
The responsibility of identifying and implementing new solutions for improving patient care and outcomes falls on healthcare delivery organization (HDO) executives. Adopting healthcare innovation can be complex and challenging, but with the right strategies and support, it can also be highly rewarding. This guide aims to provide practical guidance for HDO executives on navigating the evidence-based processes for adopting healthcare innovation, and to highlight some of the important but often overlooked considerations when adopting digital healthcare innovation.
Identifying and Overcoming the Barriers to Health Care Innovation
The provision of healthcare in developed nations, including the United States, is currently facing a healthcare crisis characterized by inefficiency, ineffectiveness, and a lack of consumer-oriented practices. Despite advancements in medical treatment, the delivery of healthcare services has not kept pace. Medical errors, a leading cause of death in the United States, and the rising cost of healthcare are among the most pressing issues in the industry. Healthcare expenditures constitute a significant portion of the United States' gross domestic product and continue to increase at a faster rate than the overall economy, posing a threat to the economic stability of governments, businesses, and individuals responsible for paying the bills. Despite the high cost, over 30 million people in the United States remain uninsured.
To address these issues, novel approaches must be implemented throughout the healthcare spectrum, including delivery, technology, and business models. Considerable financial resources have been allocated towards finding solutions, NIH received a $2 billion base-budget increase for fiscal 2022 as well as $1 billion to launch ARPA–H, a new agency designed to accelerate biomedical innovation. Additionally, the private sector, specifically within the pharmaceutical, biotechnology, medical device, and health services industries, has also invested substantial sums in healthcare research and development.
The healthcare industry has seen substantial investments in innovation, with the potential for positive social impact and financial success. However, many of these endeavors have failed to achieve their intended objectives, resulting in significant financial losses for investors. Examples of this phenomenon include the failure of the managed care revolution, a 46% decline in financing deal value for U.S.-based biotech in the first quarter of 2022, and the collapse of numerous ventures aimed at bringing economies of scale to fragmented physician practices. WHO has launched a new guide to help ensure that digital health investments are effective, sustainable, and equitable – and that they are implemented in a coordinated way and appropriate for the local context. "No matter where you live, there are unique health needs which digital technologies can help to meet. But these technologies can only be effective if they recognize these unique needs, if they are appropriate to the context – and if they receive sustained and informed investment."
In light of the prevalent inefficiencies and ineffectiveness in the healthcare sector, it becomes imperative for decision-makers to adopt an evidence-based approach. This approach harnesses research and data analysis as the means to guide innovation efforts. This methodology is comparable to the evidence gathering process in controlled clinical trials for drug development, which scientifically justifies outcomes. The procurement, deployment, and diffusion of innovative healthcare delivery models necessitate the rigorous gathering of evidence.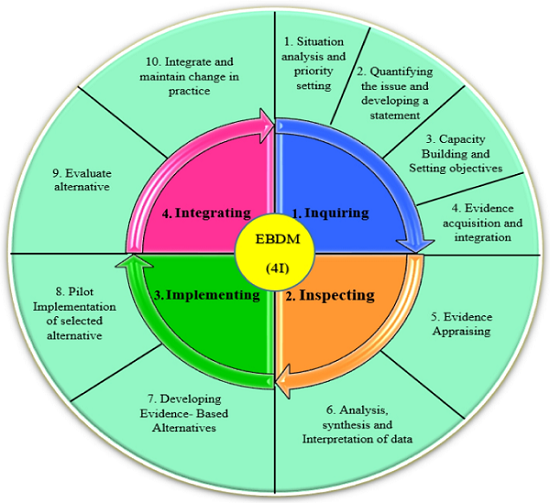 Synthesized framework of evidence-based decision-making in health system management
Source: A framework of evidence-based decision-making in health system management: a best-fit framework synthesis
In the current era of rapid technological advancements and expanding treatment options, healthcare organizations, including hospitals, must undertake a rigorous evaluation of healthcare technologies. This necessitates a substantial investment in data collection and analysis. Without such an investment, the likelihood of failure and the wasteful utilization of resources is high.
Health care organizations must integrate data and evidence-based research into their decision-making process when procuring and implementing innovations. Such integration leads to a data-driven approach that enhances the effectiveness of innovations and reduces negative impacts. In the current highly competitive and rapidly evolving health care industry, organizations that adopt a data-driven decision-making approach will have a competitive advantage in driving positive change over the long term. The use of data-driven decision making not only increases the chances of success at the organizational level, but also holds the potential to tackle the numerous challenges faced by the health care industry both in the United States and worldwide.
Evidence Gathering Process for Innovation: How Hospitals Can Leverage Evidence to Make Informed Innovation Decisions
The classification of evidence sources in healthcare innovation can be divided into two categories: internal and external sources. Internal sources refer to factors that influence decision-making within an organization, such as the organization's personnel and clinical staff. On the other hand, external sources refer to factors that impact innovation decisions from external sources, including other healthcare organizations and patient feedback.
One crucial aspect of evidence-based innovation in healthcare is the utilization of real-world data (RWD). RWD encompasses data obtained from various sources beyond traditional clinical trials, including electronic health records, claims data, and patient-generated data. The incorporation of RWD enables healthcare organizations to gain a more comprehensive understanding of the effectiveness of treatments and technologies in real-world settings. This can lead to more accurate evaluations of the benefits and drawbacks of new innovations and aid in decision-making in ways that traditional clinical trials are unable to achieve.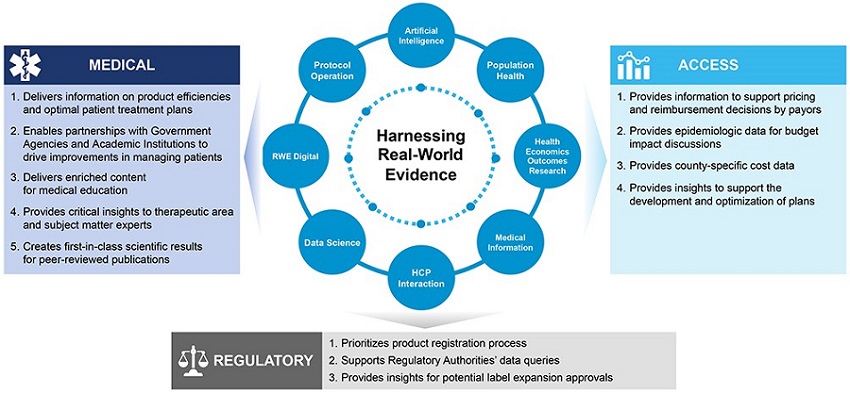 Benefits achieved with real-world evidence and AI
Source: Harnessing Real-World Data for Regulatory Use and Applying Innovative Applications
The utilization of health technology assessments (HTAs) is a vital aspect of evidence-based innovation in healthcare. HTAs involve independent evaluations of the clinical and cost-effectiveness of health technologies, providing healthcare organizations with valuable information for making informed decisions on which innovations to implement. These assessments are commonly conducted by government agencies or independent organizations, and their results inform healthcare policy and reimbursement decisions. By utilizing HTAs, healthcare organizations can ensure that they are making informed decisions on which innovations to implement, thus avoiding the diversion of resources towards ineffective or inefficient technologies.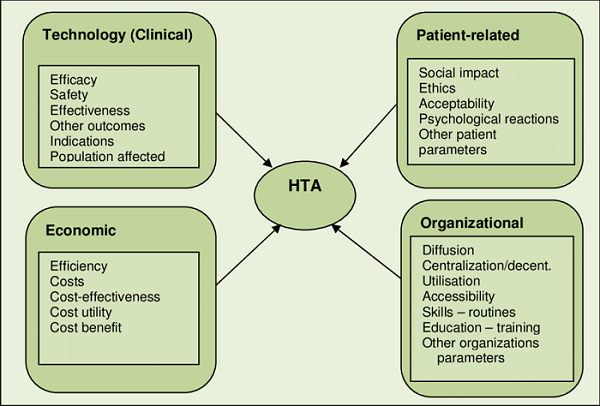 Health Technology Assessment (HTA) framework
Source: Researchgate.net
The utilization of implementation science is vital in promoting evidence-based innovation within the healthcare industry. As a field of study, implementation science focuses on the methods used to implement evidence-based practices and innovations in real-world settings. By applying implementation science, healthcare organizations can gain a better understanding of the various factors that influence the success of innovation implementation, such as organizational culture, staff buy-in, and resource allocation. By identifying and addressing barriers to innovation implementation, healthcare organizations can increase the likelihood of successful implementation. One notable example of the application of implementation science is the National Implementation Research Network (NIRN), which serves as a research center that provides technical assistance and training to organizations to facilitate the implementation of evidence-based practices.
The concept of "crowd opinion" or "social proof" has yet to be fully exploited by healthcare organizations for the deployment of evidence-based innovation. Social proof refers to the phenomenon in which individuals conform to the actions of others as a means of determining appropriate behavior. In the context of digital health innovation, healthcare organizations can utilize social proof to evaluate the effectiveness of innovations by collecting feedback and experiences from patients, healthcare professionals, and other institutions that have already implemented the innovation. This approach allows healthcare organizations to gain valuable insights into the effectiveness of innovations in real-world settings and gain a more comprehensive understanding of the potential benefits and risks associated with new technologies.
According to this Pew research, some 915 innovators, developers, business and policy leaders, researchers and activists have a nearly universal view that people's relationship with technology will deepen as larger segments of the population come to rely more on digital connections for work, education, health care, daily commercial transactions, and essential social interactions. A number describe this as a "tele-everything" world. Digital propaganda is unstoppable, and the rapidly expanding weaponization of cloud-based technologies divides the public, deteriorates social cohesion and threatens rational deliberation and evidence-based policymaking. All of this deepens the importance of more robust and careful technology adoption for the benefit of humanity and successful healthcare programs. Evidence is what matters to drive the innovation through this digital propaganda.
It is crucial for healthcare organizations to take into account various sources of information when assessing the effectiveness of their innovations. These sources include social media platforms, patient review websites, and online forums. A report by McKinsey highlights that a substantial proportion of consumers, up to 79%, base their decisions on customer feedback and social proof, such as reviews. This emphasizes the significance of patient satisfaction and the utilization of social proof for healthcare organizations to achieve success in the market. These statistics emphasize the importance of using social proof, such as customer testimonials, case studies, and online reviews, as a valuable source of evidence for healthcare innovation in a B2B setting. By gathering and utilizing feedback from existing customers, healthcare organizations can gain a deeper understanding of the real-world impact of their innovations and make more informed decisions about which technologies to implement. An example of this strategy in action is Cerner's success, a leading healthcare technology provider, who uses customer feedback as a key source of innovation and has thus developed highly successful products and services.
Industry Analyst Partnerships for Evidence Gathering
Despite the potential benefits of utilizing "crowd opinion" in constructing a framework for disciplined innovation, many healthcare institutions have yet to fully embrace this approach. This is particularly concerning given the numerous case studies that demonstrate the detrimental effects of a lack of evidence on innovation outcomes. One possible explanation for this lack of effort is the perceived complexity of gathering evidence for each innovation. However, by collaborating with industry analysts and utilizing the knowledge and feedback of individuals who have first-hand experience with healthcare systems, institutions can gain valuable insights to inform their innovation efforts.
These partnerships can also streamline the acquisition of reliable data and the development of successful models for real-world evidence, based on the collective opinions of consumers and users. Through the examination of both successful and unsuccessful instances of innovation, these collaborations have the potential to furnish hospitals with a comprehensive array of information to inform their future endeavors.
The Medigy Innovation Network is one such example that presents itself as a paradigm for fostering alliances between health technology innovators and medical institutions. This network endeavors to generate empirical data and evidence through its collaboration efforts. The network operates as a credible source of collective wisdom, guiding the trajectory of "disciplined innovation." By capitalizing on the availability of such networks, hospitals augment their prospects for success in innovation efforts through access to a broad spectrum of information and knowledge.
However, a failure to conduct proper evaluations of new technologies through evidence-based research can result in unsuccessful technology procurement and adoption. This issue is prevalent in the healthcare industry, where the pressure to implement the latest innovations can lead to hasty and ill-informed decisions. Without adequate assessment, healthcare entities may incur significant expenses on technologies that ultimately prove to be ineffective or even detrimental. This not only results in the depletion of resources but also in the impairment of patient outcomes.
The failure to efficiently integrate new technologies can result in a decrease in trust in the organization and resistance among staff to adopt future advancements. Strategic collaborations with industry analysts can potentially save both innovators and medical institutions millions of dollars by granting them access to dependable, actual data and crowd-sourced insights through evidence-based methodology. Typically, medium-scale projects under such collaborations entail expenses in the range of $30,000 to $60,000 for the medical institution.
The Importance of Academic-Industry Collaborations
The integration of technology into real-world applications in the field of digital health is greatly facilitated by academic-industry collaborations (AICs). These collaborations, including traditional biotechnology innovation models, academic entrepreneurship efforts, and government-sponsored technology partnership programs, are essential for the success of digital health initiatives. However, several barriers can impede the establishment of AICs that promote responsive evaluation, such as limited funding for research, a restricted pool of potential collaborators, inflexible institutional infrastructure, competing priorities, and time constraints.
University-integrated health systems, such as Academic Health Centers (AHCs), provide a particularly conducive environment for the cultivation of AICs and the advancement of innovation and science in digital health. AHCs, which encompass health profession schools and an affiliated health system, offer the necessary access and support for translating validated innovations into practice. Specifically, AHC-based AICs (AHC-AICs) leverage interdisciplinary expertise, patient data, and clinical trial infrastructure to facilitate the development of novel digital health products. In the United States, at least 70 university digital health centers exist within AHCs.
What Next for Healthcare Delivery Organizations (HDOs)?
The adoption of healthcare innovation is crucial for healthcare delivery organizations (HDOs) to address inefficiencies, ineffectiveness, and lack of consumer-centric practices in the industry. However, the process of successfully implementing innovation can be complex and challenging. To overcome these obstacles, HDOs must adopt an evidence-based methodology when evaluating and implementing new technologies.
This guide provides actionable guidance for HDO executives to navigate the intricacies of evidence processes for healthcare innovation adoption and highlights crucial considerations in digital healthcare innovation adoption. By utilizing data and evidence-based research, HDOs can make informed decisions about which innovations to acquire and implement in a way that maximizes their impact and minimizes negative consequences. This process enables HDOs to drive positive change and remain competitive in the long-term, addressing the numerous challenges that afflict the adoption of innovation in healthcare industry.
To streamline the process, HDOs can seek partnerships with industry experts in the field of disciplined innovation and evidence-based healthcare solutions, such as through organizations like the Medigy Innovation Network. Through these partnerships, HDOs can gain access to the knowledge and resources necessary to effectively evaluate and implement innovation in their organizations.
---
---
Next Article
The healthcare industry is undergoing a digital transformation, with organizations adopting digital technologies to improve patient outcomes and reduce costs. However, healthcare providers and …
Feb 7, 2023
Did you find this useful?