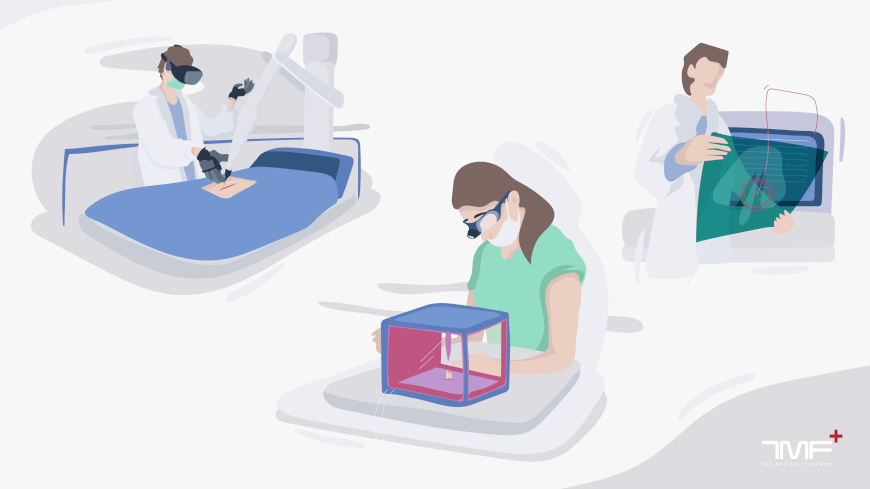 Future Trends Help You Choose The Most Fitting Medical Specialty
Artificial intelligence, wearable sensors, virtual reality, medical robots, social media and the like – in a couple of years, disruptive technologies will completely change the way patients and doctors think and act about healthcare. A cultural transformation of how disruptive technologies that provide digital and objective data accessible to both caregivers and patients leads to an equal level of doctor-patient relationship with shared decision-making and the democratisation of care. Unlike before, digital technologies, social media, wearables, and trackers provide medical data and knowledge to many more stakeholders in healthcare beyond doctors. As patients have access to online medical information sources, patient communities on social media, wearables and health sensors providing medical data, they could present more questions and more knowledge related to their own health. The patient might assume a more "mature" position, while the doctor might become a guide in the jungle of digital health instead of being a declaratory reference point. Currently, and in the future more than ever, physicians should team up with technology to provide their best performance and the most efficient care to their patients.
As technology provides more and more responses to numerous medical questions that were answered by medical professionals before, personal patient-doctor communication will become less frequent and more valuable. Also, neither artificial intelligence nor virtual reality or health trackers will be able to solve complex cases, so in general, creativity and problem solving will become skills to nurture and look for in the future generation of medical professionals. As the landscape of medicine is as diverse as the metabolic composition of the human body, technological change affects the various medical specialties differently. The illustration shows that medical specialities that rely heavily on medical imaging and laboratories, will be significantly influenced by the digital health revolution including radiology, pathology – and other non-diagnostic fields, such as nephrology, rheumatology, haematology and dermatology. Chatbots could even become the first line of primary care – meaning that patients might only get a doctor's appointment if the A.I.-based chatbot could not offer sufficient medical help. Moreover, artificial intelligence-based predictive algorithms could help epidemiologists better fight disease outbreaks, gene therapies, and digital contact lenses make eye care more efficient, virtual reality, exoskeletons or exercising machines could shorten rehabilitation time or alleviate pain. Certain medical fields will most likely experience a different effect of digital health technologies.
All specialities where human factors such as empathy and caring attention are the core of the practice, high levels of creativity and problem solving, and quick decision-making abilities will override any technological solution in the majority of cases. Regarding emergency medicine, portable diagnostic devices or medical drones can significantly reduce the time until a patient receives a proper diagnosis or specific treatment, but the ambulance crew will always remain indispensable on the spot. As the technological revolution has a different impact on every medical specialty, the necessary skill-set for successfully picking up the ins and outs of a healthcare field also widely varies. However, we could discern some general skills and principles based on the requirements of the digital age and technologically boosted healthcare. For decades, the medical community has left the single most important player out of every major decision regarding healthcare: the patient. Medical students and doctors should understand and embrace the idea once and for all that the patient is at the centre of our universe. Patient design should be the mantra of medical students, but physicians should also remind themselves from time to time – as it is still not as axiomatic as tourists around La Tour Eiffel.
Medical students, physicians, nurses and other medical professionals should try health apps, fitness trackers, and wearables themselves to be able to recommend those to patients. Besides, if they familiarise themselves with fitness and health technology, it will also get a lot easier to understand their patients' concerns and questions about them, while they will realise that the recommendations are not just the results of pharmaceutical or other medical company sales representatives' successful sales tactics. Knowing how to search for, find and assess information; assessing the quality of medical websites; knowing how to work with empowered patients should all be essential skills for physicians of the near future. Patients submit their cases to the site, and medical students, retired doctors, nurses or even laypeople offer their potential diagnoses. On top of that, interconnectedness and access to quality medical information by the patient communities can provide knowledge pockets that find their way to the literature years later.
---
---
Next Article
In 2019, the company launched its first commercial device: Milli Trainer, a pelvic floor dilator with adjustable sizing to help women dealing with painful sex. The femtech sector coined by the founder …

Posted Aug 3, 2022 FemTech Healthcare Fundraisers
Did you find this useful?